The Beauty and Versatility of Hardwood Floors
Site-finished Natural Wood Flooring - A Gift from Nature
When choosing a floor covering for your home, the options include carpet, tile, vinyl, laminate, prefinished and engineered wood, bamboo and, our favorite, site-finished 3/4" wood. Unlike the other options, site-finished hardwood is the most natural. Because the grain of every tree is unique, a site-finished hardwood floor will reflect the natural beauty of Nature, and provide a durable floor for decades if maintained properly.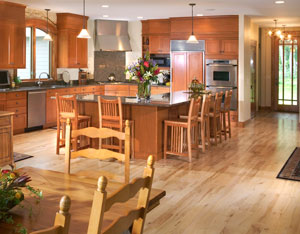 No two trees in a single wood species ever grow the same. Factors such as weather, season changes, and geographic region affect trees, and the wood that is harvested from them. Thus, the wood grain and color will vary from board to board. Because of the variations listed above, your new floor will never exactly match showroom samples, your neighbor's floor, or pictures in magazines. Rather than expect consistent uniformity, expect natural inconsistency. The variations are unique and beautiful.
Resand and Refinish -- A Treasure Under Your Rug
If you own an older home with hardwood under old carpet, you may be surprised to see what miracles we can perform to give your old wood floor a brand new look. Refinishing consists of sanding, resealing and refinishing your hardwood floor. If time has added an addition or moved a wall, we are able to incorporate old 'reclaimed' matching wood from the same era into your existing wood floor to give you a uniform, glowing floor that only we and you will know wasn't there when the house was built. We take our 'transitions' very seriously. Transitions are found in doorways where various types and heights of flooring meet. Our goal is always to create a seamless, attractive transition which doesn't catch your eye or your toe!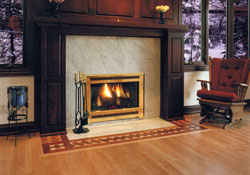 Screen and Recoat
The screen and recoat process on hardwood floors is not a complete refinishing, but rather it refreshes the floor's final appearance. Dullness from traffic and minor surface scratches can be removed by screening the surface, and then applying a recoat of finish. Frequent applications can eliminate the need for a complete refinishing at a later date. It will prolong the life and beauty of your site-finished floor. Deep scratches can only be eliminated with a resand and refinish.
Word About Pre-Finished Floors
Pre-finished hardwood flooring have gained in popularity over the past two decades. Although there are many variations of Pre-finished hardwood, all have a bevel on the edges to protect them during installation. Because they are factory finished, they can be less expensive than a site-finished hardwood floor, but the resand can be more complicated due to the bevels. We're happy to discuss your particular needs and long term expectations to help you choose which flooring is right for your home.
Communication and Preparation
We consider all aspects of the job to ensure you are completely satisfied with the installation of your new floors. This includes using the highest quality materials within your budget, adhering to an agreed upon schedule, being considerate of your home and its contents, and maintaining courteous regular communication throughout the installation, so you are comfortable and confident with the final results of your job. Taylor Made Flooring by Will Scott intends to live up to our claim of being Western Wisconsin's Premier Flooring Specialists. Give us a call, you'll be glad you did.